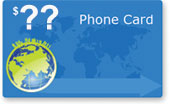 Get more information about the disadvantages of Calling Cards and "10-10" services. Although Calling Cards and "10-10" services are widely available and easy to use, there are many hidden charges and restrictions associated with them. Below are some insights into these services, which are guaranteed to show you why SmartReach is the long distance service for you.

Calling Cards

A Prepaid Calling Card requires you to enter a PIN code each time before dialing a long distance number. When you use up the prepaid minutes available on the card, you need to purchase a new one.

Besides this, Calling Cards use a variety of hidden fees and surcharges, designed to ensure that you never fully use the number of minutes that are advertised as being available to you.

Card issuers charge these, because they need to show consumers the lowest per minute rate to get your business. To lower the per-minute rate means to take a cut in profit, hence the extra fees. Here are some of examples of hidden fees charged by Calling Cards:


Surcharge: A percentage added on to the per-minute rate.



Connection Fee: A flat rate deducted from your calling card's prepaid balance once you connect with the party you are calling.



Maintenance Fee: A fee charged when the calling card is not in use, i.e. a calling card maintenance fee of 25 cents per week will mean 25 cents per week reduced from the total pre-paid balance regardless of whether you use the card or not.



Service Charge: A flat fee deducted from the pre-paid balance after a certain call duration - almost like a delayed connection fee.



Rounding Charge: Calls are billed in blocks of three minutes.




"10-10" Services

"10-10" services require you to dial "10-10" and a three digit identifier to bypass your regular long distance carrier. "10-10" services use 3rd party infrastructures which drives up their costs. These costs are very steep and to recover them, every call you make will be charged, regardless of the call quality or completion of the call. For this reason, you may end up spending more than you expect and not realize it until it's too late. Here are some things to watch out for:
Minimum call length: They may advertise a 20 minute call for $0.99, but calls under 20 minutes still count as a full conversation and your next call will be charged at a higher rate.


Hidden higher rates: The advertised fees may kick in after you've talked for 10 or 20 minutes. Before that, you pay higher rates that are not advertised to you.


Rounding charge: Even if your call does not go through or you talk for only a minute, you will be charged for the full per minute rate.


Higher cell phone rates: Certain international countries will have higher rates for calls to cellular phones, which are not made obvious to you.


Limited availability: Some "10-10" services are only available with certain phone providers and in certain areas.


Restricted to landlines: Most "10-10" services are only available when you dial through a landline phone, which means you cannot place long distance calls with cell phones.
How is SmartReach different?

With SmartReach Long Distance service, you are not required to enter a PIN code and you have the convenient option of auto-recharging your account. Also, there are NO hidden charges. SmartReach service provides clear, uninterrupted service 24 hours a day.

In addition, unlike Calling Cards your SmartReach account will never expire. You may keep your account for as long as you wish and you can use up the funds in your account at your own pace. You will not be penalized for having funds in your account.